Welcome to the BIGGER, BETTER, STRONGER trampolines!
After searching the market we've found  8 of the most popular rectangular trampolines available. While smaller round trampolines are great for most jumpers.  Rectangle trampolines are designed specifically for preforming tricks and stunts. They provide a larger jumping space and an overall superior bounce. As a result, they are used by many professional and amateur athletes. For example, circus performers, dancers, ski jumpers, even Olympic gymnasts have been known to use them while training.
Given the space and budget to support, the rectangle trampolines are worth the cost. The most basic version costing around $659, to the more professional trampolines costing $2,779.
---
SKYWALKER RECTANGULAR TRAMPOLINE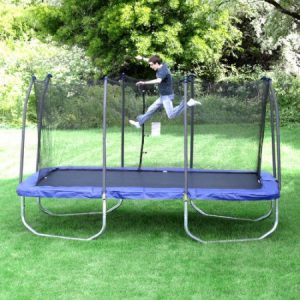 $659

First, let us look at the Skywalker 15X9-foot Rectangular trampoline. It's long straight sides make it great for competitive jumpers, aspiring gymnasts and family fun. The rectangular design allows the springs to work at different rates, thus giving jumpers a higher lift and a more controlled landing. Skywalker's model is made of durable, long lasting materials that are UV resistant. The patented No-Gap Enclosure interlocks with the galvanized steel frame. T-sockets are used to attache the legs to the frome, preventing structural twisting while also extending the life of the trampoline. To eliminate gaps, the netting of the enclosure connects directly to the jump mat at each v-ring with a button-hole feature. In conclusion, Skywalker is recommended for its weather resistance and durability at an affordable price.
---
UPPER BOUNCE RECTANGULAR TRAMPOLINE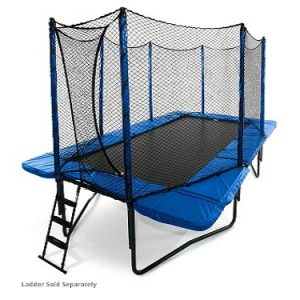 $698

The Upper Bounce 8X14 Rectangular trampoline is 106 feet of excellent backyard entertainment. First of all, it provides amazing stability, safety and durability by using a top Flex pole enclosure system. A pole system that bends with impact! Softening the blow, instead of a solid metal pole. Similar to other rectangular trampolines the Upper Bounce has springs that work independently at different rates to provide higher jumps and smoother landings. At the same time, not all rectangular trampolines are structured the same. This particular model is made of 4 galvanized steel legs, 8 curved poles to support the net and 86 springs.  For a longer lasting product they've also powder coated the frame black for extra duribility.
---
SUMMIT RECTANGULAR TRAMPOLINE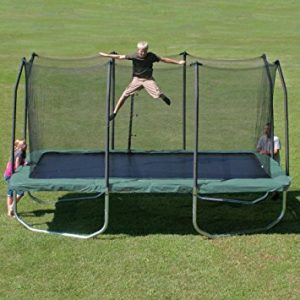 $979

Summit has taken every precaution to keep its jumpers safe. You can have peace of mind while family and friends improve dexterity, hand-eye coordination and balance. The Summit Rectangular Trampoline is structured a lot like the Upper Bounce with 4 steel legs but only has 6 curved poles supporting the enclosure net. While rectangular trampolines are great for athletes to train on they are also great for multiple jumpers to enjoy safely.
---
ACON AIR RECTANGULAR TRAMPOLINE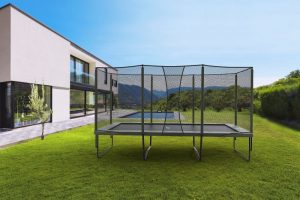 $1,399

On the other hand, this heavy-duty Finland design is enjoyed year-round by adults and children alike. The ACON Air Sport is our number one recommended rectangular trampoline. While it breaks the $1,000 mark it's built to last through the summer heat and the winter snow for many years. They even back it's sturdy frame with a 5-year warranty.  Equipped with 138 galvanized, heavy gauge springs measuring 10 inches with a pre-load of 82N. The larger, heavy-duty springs allow any size jumper massive air. Don't let the price scare you, you're paying for a frame with thicker pipes, the highest rated springs, best sewn mat and thicker foam spring pad. In addition, this model comes with an enclosure net that secures tightly to the mat, preventing injury.
---
OLYMPIC TRAMPOLINE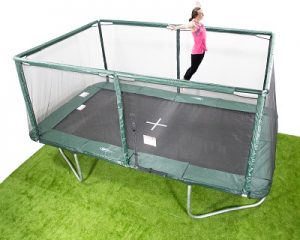 $1,599

Here we have the 10X17 Olympic Rectangular Trampoline.  100% made in the USA! The name isn't random; it measures the official size used in the Olympic games.
The frame tubing is 9X7 inches wide, 16X7 inches long and 39 inches high, consisting of forty 10-12-gauge galvanized steel. Its jump mat measures 7X14 ft using only top grade permeation materials.  Max weight capacity of 350lbs.
The frame and springs are covered by a 1.25in thick 13in wide Polyethylene foam that is then incased in a heavy-duty 20oz coated vinyl pad. In addition to using custom sewn Velcro straps to secure the firmly to the bottom of the trampoline. It's clear that safety is the number 1 priority.
---
JUMPSPORT RECTANGULAR TRAMPOLINE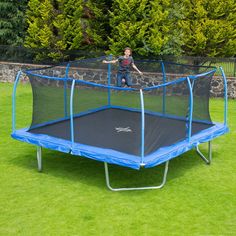 $2,099

Next up, The Jumpsport 10X17 Rectangular Trampoline. After review, some customers stated its narrow shape makes it perfect for side yard installation. While others said it's more suited for someone with unlimited space. Due to its size, we agree that unlimited space would be ideal. At the same time if can work in some limited space situations.
At any rate because of its sturdy design, safety enclosure and shock-absorbing padded poles that flex upon impact they've created a safe and durable product. Geared toward all ages with a max weight capacity of 225lbs. JumpSport added several features to improve safety; a patented Triple-fail-safe engineering has 2 forms of "back up" holding the net in place, shock-absorbing strap and shock cord suspension system pushes jumpers back on the mat. A degree of overall protection not commonly found in other manufactures. High-quality at its best and we highly recommend it.
---
ALLEYOOP RECTANGULAR TRAMPOLINE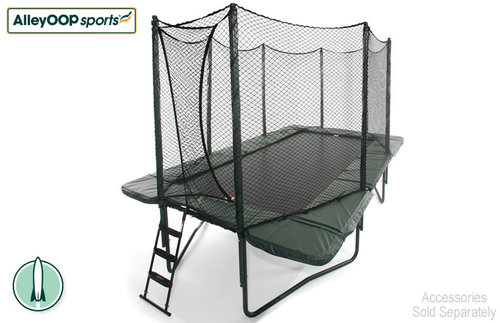 $2,779

AlleyOop has created what many customers believe to be the best rectangular trampoline ever! It's state of the art design improves bounce performance and shock-absorption. The first of its kind, you can fine tune it for different ages, weights, and even skill levels. It's done using PowerArmTm links that work as levers, boosting spring stretch which improves overall bounce performance. It's recommended that the bottom setting super-stages the springs and gives the best combination of shock-absorption and performance. They've broaden the spectrum for jumpers. Whether you're a professional athlete or you're searching for the best possible jumping experience