Adult Pogo Sticks
Pogo Sticks are enjoyed by children and adults alike. Whether you're looking for your first basic Pogo Stick or you're ready to venture to an extreme Stick. You've come the right place. We've researched and compared the most popular Pogo Sticks on the market to ensure you find the best fit for your jumping needs. Some brands listed are Wooden Retro Pogo, FlyBar, and Vertigo. The first seven listed are rated for adults or 9 years and older. The last is the Flybar Maverick Pogo Stick, rated for children 5- 8 years old. We recommend an adult not attempt the children's Pogo Stick. It could result in injury. As you look around, you'll also find games, tricks and world records related to Pogo Sticks.
$439

Ages 14+
80-300+lbs

Vurtego V4 Pro kicks it up a notch in the pogo world. The V4 design is based on the idea of a portable trampoline. The best jumpers in the world can jump 10+ feet! Air is pumped into the Vurtego giving you the option of a softer or stiffer pogo. The more air you pump into the V4 Pogo Stick, the stiffer the spring will become. The stiffer the spring, the higher the jump provided. Designed for riders weighing 75lbs or more.
If you're looking to reach new heights, do tricks, jumping over stuff– the V4 Pro is your best bet.
---

$149
Ages 14+
90-200lbs


The Flybar Super Pogo 2 is made of aircraft grade alluminum. Using only the high grade heavy duty rubber, plastic, and metal. Not only is it fun to push the limits of gravity, but it provides a healthy form of exercise. It is shipped fully assembled.  1 year warrenty included from Flybar.
---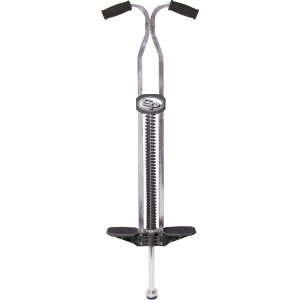 $102
Ages 14+
120-210lbs


A stiffer spring used in the Flybar Super Pogo provides a higher jump than some generic pogo sticks. Made of the same heavy duty materials used in the Flybar Super Pogo 2. It is an overall sturdy, reliable pogo stick. A 1 year warrenty is provided by Flybar.
---
 Flybar Chrome Master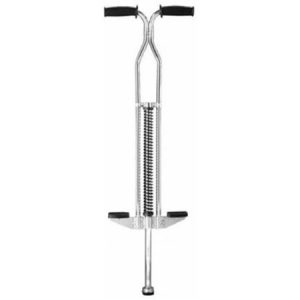 $64
Ages 9+
80-160lbs


The Chrome Master has made a come back with an improved design. It will no longer rub your legs are you jump creating irritation and injury. It's metallic design and durability sets it apart from generic pogo sticks.
---

$55
Ages 9+
80-160lbs


The master Pogo is cover in foam to protect beginner and intermediate jumpers. It covers all the moving parts and prevents debris from lodging in the spring.
---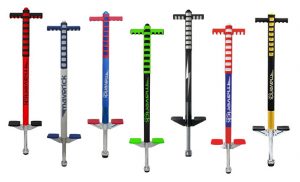 $38
Ages 5-8
40-80 lbs

The Maverick is the perfect starter pogo. Designed for children as young as 5 years old. They'll beg to go outside to play with it, not only is it great fun but a fantasic form of exercise. You can burn 150 calories in only 15 mins!
---
 Flybar Wood Retro Pogo Stick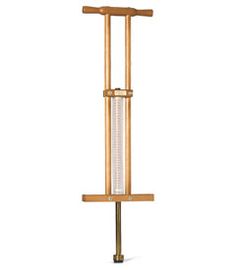 $188
Ages 9+
80-160 lbs

Take a step back to the past, The very first pogo stick came alive in 1918. It's a wooden redention of the original pogo stick that started it all.
---
The Best EXTREME or PRO Adult Pogo Stick
The Vertugo Pro Pogo Stick is easily the best choice if you're ready to take your pogo skills to the next level. Promoted around the world as a best seller holding a perfect 5-star rating on Amazon.com. Designed for adult use only. Check out the reviews and see for yourself why it continues to be a satisfying product.
While other extreme or Pro Pogo Sticks are cheaper than the Vertugo Stick. You get what you pay for. In competition, the Vertugo Pogo Stick surpassed the FlyBar Pogo simply because of how it's constructed. The Vertugo uses compressed air, this propels the jumper higher off the ground. Which is ideal for tricks and games. The Flybar Pogo Stick on the other hand uses a combination of metal strings and rubber bands. This gives you bounce but not as much air. Compressed air has been proven to be the better choice when choosing an extreme Pogo Stick. For example, the metal springs and rubber bands in the FlyBar 800 aren't as durable or ideal for tricks and games.
While the Flybar 800 and Flybar Super Pogo 2 are great pogo sticks. We recommend a Vertugo stick for its high quality and ability to last longer.
Who is the pogo for? Which is best for your age group?
Best Teen / Child Pogo Stick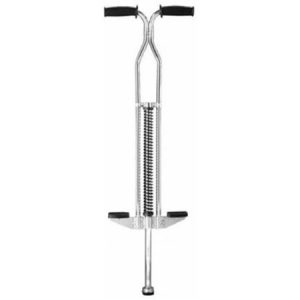 The Flybar Super Pogo Stick is the traditional pogo stick design. It's the one that comes to mind when you think "Pogo Stick". Consisting of a durable metal string and high quality rubber, it's designed for jumpers 14 years old and up. These are more in a child-adult category. Since its weight range is 120- 210lbs. Though not ideal for extreme jumpers, this would be a cheaper alternative to the Vertugo Pogo Stick.  We've found that jumpers as small as 70-80lbs can also use the Flybar Super. It maybe a little harder for them at first to pump and jump but with a little practice they can get just as much out of it as a larger jumper. They make great gifts too! It's the perfect Pogo for kids to grow into.
Best Teen / Kid Pogo Stick
Intended for ages 9-15, We recommend the Flybar Super Pogo or the Flybar Master pogo. These are great for beginners and not intended for extreme or pro use. The Flybar Master is made of plastic covered in foam available in 5 colors. Rated the best sticks on the market for children/Teens.
Best Classic / Retro Pogo Stick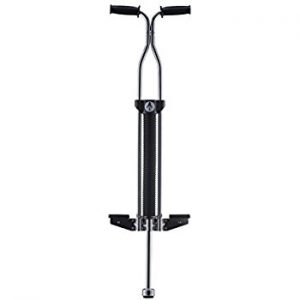 The Flybar Chrome Master Pogo or Flybar Woodren Retro Pogo can take you back to your childhood. As by design with a retro look. While the look makes them stand out, they aren't like the other more exhilarating pogo sticks.
Best Kids Pogo Stick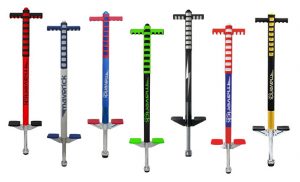 Last but not least, for children 5-8 years old we have a foam covered pogo that comes in several different colors. The Flybar Maverick Pogo Stick is perfect for beginners. In the world of pogo sticks its the highest rated for children in the world! It keeps the jumper safe while they're learning to balance and jump. In addition to getting exercise and enjoying a classic pass time.