| UPPER BOUNCE TRAMPOLINE | PURE FUN TRAMPOLINE | SPORTSPOWER TRAMPOLINE | SUPER JUMPER COMBO | SKYWALKER ROUND TRAMPOLINE |
| --- | --- | --- | --- | --- |
| | | BEST VALUE | | OUR CHOICE  |
| | | | | |
| $267 | $274 | $299 | $339 | $440 |
| | | | | |
| | | | | |
A 14-foot trampoline is the smallest size available for outdoor use. A great choice if you have limited yard space or have smaller children. Below we've listed the top 5 best-selling and highest rated brands from around the world.
You'll find trampolines costing as little as $267 for the Upper Bounce 14ft. However, for the best deal the Sportspower Trampoline is recommended for $299. The Skywalker Round on the other hand costs around $440.
Keep in mind, trampolines come in several sizes. If you're shopping for older children and/or space isn't a concern, we recommend a 15-16-foot trampoline instead. Learn more by here.
---
Skywalker Round Trampoline with Enclosure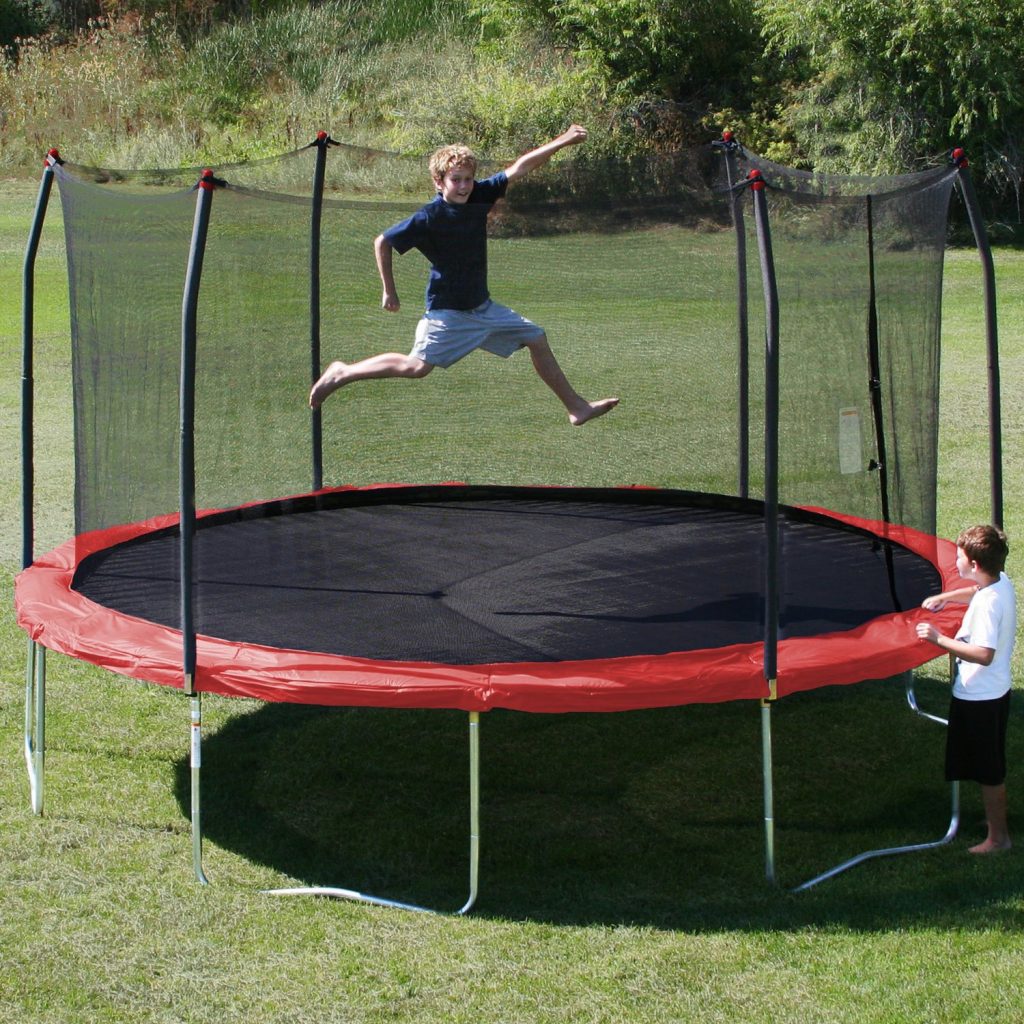 $440     Our Top Choice!
Skywalker Round has become the manufacturing king of outdoor trampolines. It's easy to maintain with its heavy-duty frame made of rust-resistant, galvanized steel. To keep jumpers safe, they've attached the safety enclosure to every spring! Most enclosures only attach to the frame in a few places. It is highly recommended with a guarantee of durability.
---
Pure Fun 14 Foot Trampoline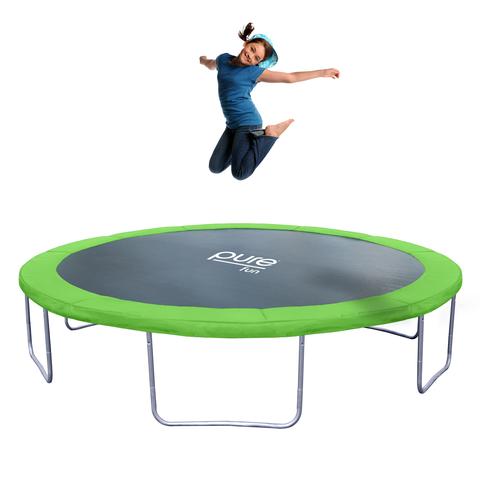 $274  
The T-frame construction of the Pure Fun 14-foot trampoline prevents shifting, wobbling or tipping over. It's unique, stable design is for jumpers of all sizes with a weight capacity of 250 lbs. The Pure Fun Trampoline puts safety first while still being very affordable. It comes with a water-resistant spring pad that also protects finger and toes. Available with or With-out the safety enclosure. However, The enclosure is recommended ensuring jumpers remain on the jumping mat.
---
Sportspower 14 Foot Trampoline with Enclosure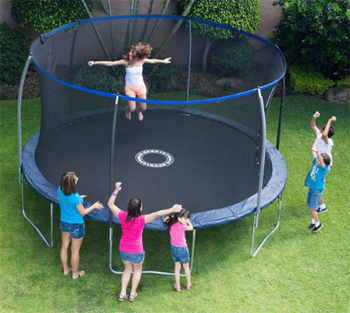 $299   
SportsPower  proves you can find great quality at an affordable price. It's the best bounce for your buck! Available in a variety of colors, each one equipped with a UV resistant safety enclosure and spring pad. The springs are coated in zinc which supports safety and durability. Although designed for smaller jumpers it  supports up to 220 lbs. It's constructed of a galvanized steel frame in a T weld design. It is best choice for high-quality on a budget.
---
Upper Bounce Trampoline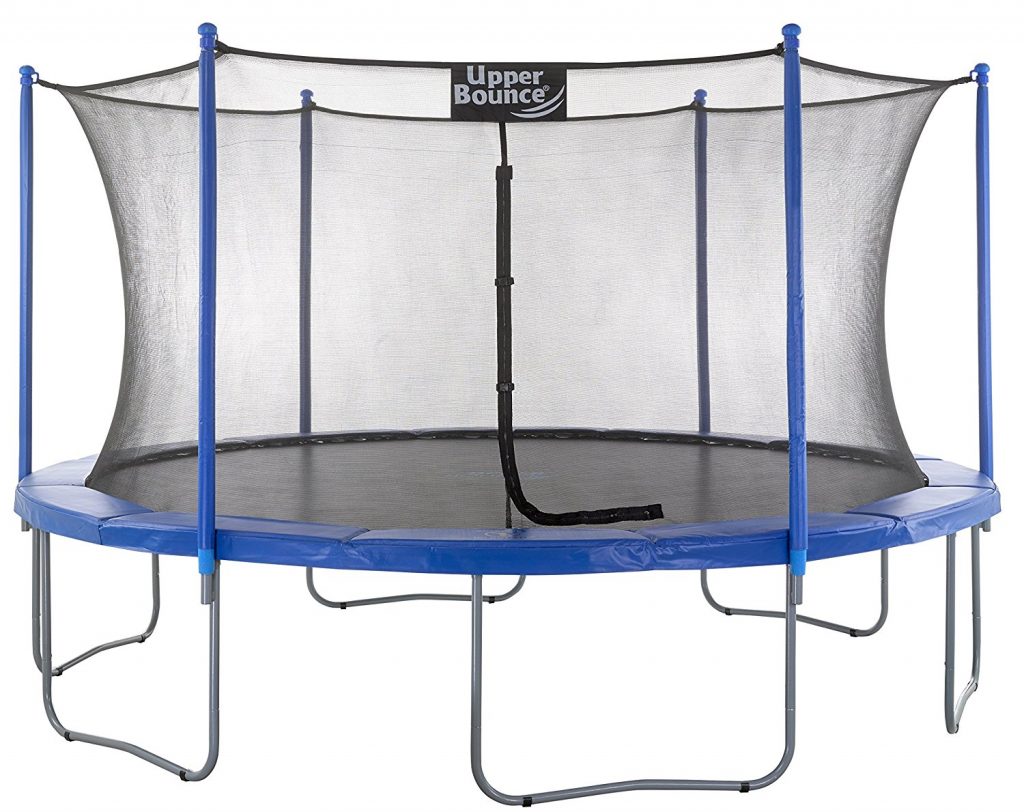 $267   
Upper Bounce is ne of the most popular trampoline manufactures around. A very innovative company,  great at adding new features to their products. They continue to do so with their 14-foot trampoline. Designed for slightly larger jumpers, it supports up to 330 lbs. Most 14-foot trampolines have a max capacity of 220 lbs. They've made set up and take down easier and less time consuming. The enclosure net poles can be assembled without the use of special tools. The Upper Bounce 14- foot trampoline is great if yard space is limited and for slightly larger jumpers. Features also include; Galvanized powder-coated steel frame, enclosure net and water resistant spring pad.
---
Super Jumper Combo Trampoline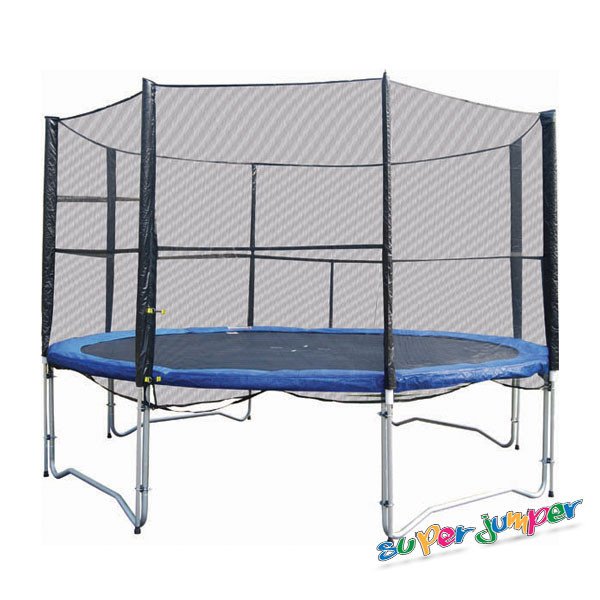 $339   
The Super Jumper Combo Trampoline is considered a "heavy duty" round trampoline. With a frame made of galvanized steel tubes for stability and durability, it can support up to 330 lbs. Since the bounce mat is UV resistant, it is protected from sun damage and nasty weather. The Super Jumper Combo comes with free installation tools, spring safety pad and a mesh enclosure net to protect jumpers from falling off.
Propel 14ft Trampoline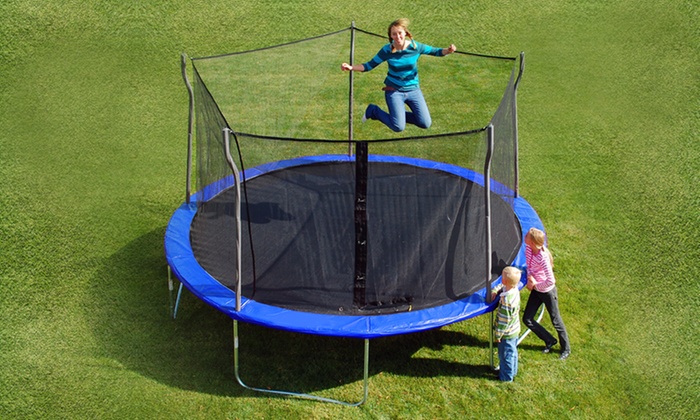 $349.99 

Propel uses 72 galvanized springs working together, creating the smoothest bounce on the market. The enclosure uses an impact-absorbent system, keeping jumpers on the mat.
You'll be satisfied with any of the 5 brands listed above. If you have small children, limited funds or space, 14ft trampolines are the way to go.
If 14ft just isn't big enough or If you'd like to learn more about the best 15-16-foot trampolines, please see our other articles on top rated brands.