| SUPERJUMPER TRAMPOLINE COMBO | EXACME 16 FOOT TRAMPOLINE | KANGA PROFESSIONAL TRAMPOLINE | UPPERBOUNCE TRAMPOLINE | MAGIC CIRCLE OCTAGON TRAMPOLINE |
| --- | --- | --- | --- | --- |
| BEST BUY | | | | BIGGEST |
| | | |   | |
| $334 | $399 | $429 | $479 | $1,289 |
| | | | | |
| | | | | |
The 16-foot trampolines are enjoyed by many ages. Mainly designed for adults and teens while remaining safe for smaller children. Most models can support up to 450 lbs of pressure! If your shopping for a larger jump surface and want a higher bounce, the 16-foot is the one for you!
Below we've listed the highest-rating 16-foot trampolines on the market. There are 5 models to choose from.
Superjumper Trampoline Combo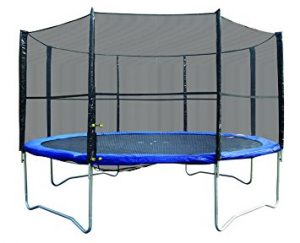 $334   

    The Superjumper 16-foot trampoline is a best seller in the UK. Constructed of high quality, rust resistant steel tubes and firmly sown UV resistant mat. It comes highly recommended as a heavy-duty trampoline, capable of supporting up to 330 lbs. max. Superjumper is a high-quality trampoline with the lowest prices on the market.   .
Upper Bounce Trampoline with Enclosure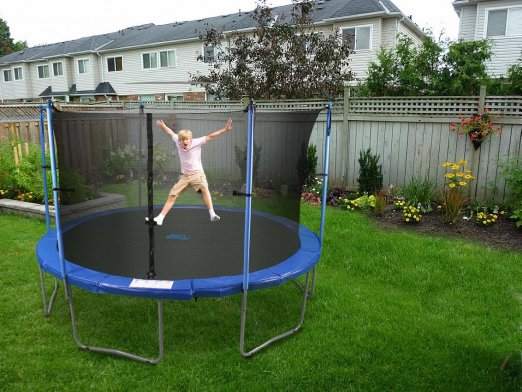 $479   

The Upper Bounce 16-foot trampoline is over-all in the mid-price range. Nonetheless, still has more features than some cheaper trampolines. It's sold with a polypropylene mat, waterproof spring pad and enclosure net with minimal gaps. A surrounding enclosure attached to the frame protects jumpers from falling off. While a spring pad prevents fingers or toes from being pinched in the springs. The jump surface itself measures 16-feet not including the frame. This model provides excellent security and peace of mind at an affordable price.
ExactMe 16ft Trampoline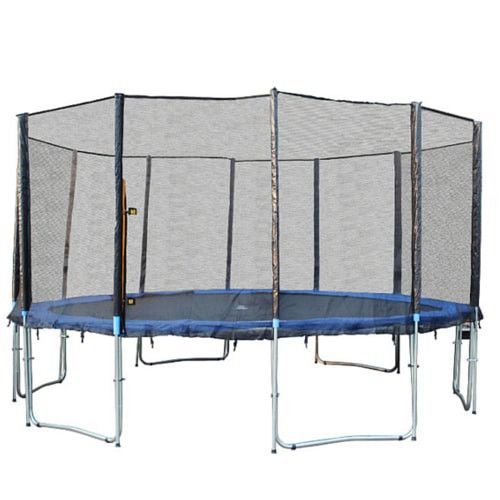 $399   

    ExacMe has a 16-foot trampoline known for its stability and safety. The frame is made of rust-resistant galvanized steel tubing for a stronger, longer-lasting product. Its 6 U-shaped legs add stability on 12 balanced contact points, making it safer for larger jumpers and prevents it from wobbling or tipping. The Exacme 16-foot model comes with a zipper enclosure for easy access on and off the mat and 375 lb. max weight capacity. Its larger size and galvanized springs guarantee a deeper, more enjoyable bounce.
Kanga Professional Trampoline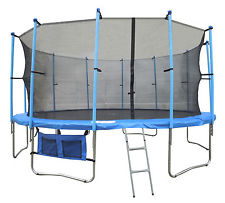 $429    

    The Kanga Professional 16-foot model is another mid-level trampoline. Although its name suggests otherwise. Despite having a 400lb. weight limit it would give a better bounce to a mid-weight jumper. The jump mat sits 89 cm from the ground and measures 14ft, the frame makes it 16-ft. Avoiding finger and toe injury Kanga Professional covers the springs with a high-grade, water resistant closed cell foam pad. The cell foam is longer lasting and more water resistant than some cheaper foams .
Magic Circle Octagon Trampoline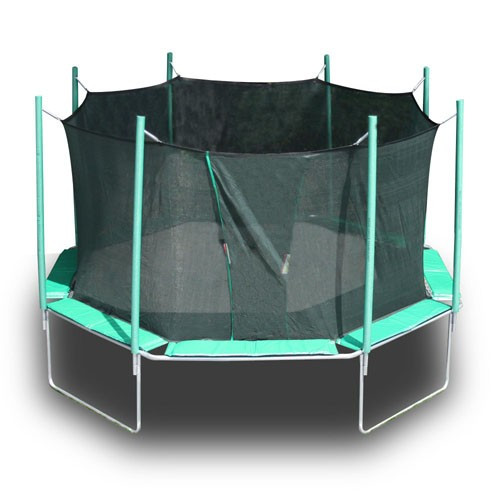 $1,289   

     The Magic Octagon 16-foot trampoline is virtually maintenance free and carries the highest weight capacity in its class, capable of supporting 450lbs! This particular model has a tensile strength of 350lbs per square inch. Frequently reviewed as extremely stable and safe, the UV protected foam pad protects jumpers from injury and won't lose color over time. Simple set-up, safer jump simple as that.

Trampolines never go out of style and a great way to get outdoors with the family. After you've reviewed the top 5 manufactures for 16-foot trampolines, choose the one that fits your needs best. The links at the top of the page will direct you to purchase instructions for each model.
What are you waiting for? Trampolines are one of the best jumping toys available. Pick the one you like most, order from the links above and have it shipped right to your house. All 5 listed above are easy to assemble in just a few minutes.