Behold the Bounce House!
An inflatable structure allowing toddlers, kids and adults to jump, flip, and climb on squishy fabric (or vinyl) happiness.
A great source for hours of entertainment, bouncey houses are perfect for children's birthday parties, and other outdoor events and celebrations.  They come in a variety of different shapes, colors, designs, and  themes.
Top 10 Most Popular Bounce Houses!
Below is a list of the most popular Bounce house models. We offer EVERY model displayed. From bounce houses designed for 1-2 small jumpers to the larger commercial sized bounce houses (Mainly for large get togethers, Birthdays, Fairs, School functions, Fundraisers etc).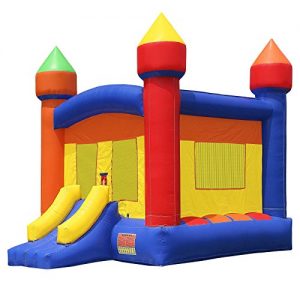 A Commercial-grade Bounce Castle, Made by Inflatable HQ. While being fire retardant and lead free, it is made from 100% PVC vinyl. It's puncture-proof PVC will last approximately 5 times longer than the commonly used nylon in lesser quality units. . All high-stress areas have industrial strength PVC at every point. It surpasses other products as it won't tear, fade, or mold. It is also easier to clean!
Sporting a 30" tall spring force mattress with cushioning supporting tall leaps and very comfortable landings. The roof protects children from harmful UV rays and provides an escape hatch in the event of deflation due to a power outage. There is a wide, elevated slide on the front for a comfortable exit. Inflatable HQ also uses a higher quality mesh for the windows of their products. The mesh is made from rip stop netting technology that will not tear like cheaper materials used in lesser units. Providing protection from falling out and allowing the children to be supervised. The Zipper flaps allow the bounce castle to quickly deflate for storage
With your purchase, you will also be provided; instructions, 4-ounce bottle of glue, repair kit with patches and 4 12" heavy duty metal ground stakes. This model has an upgraded 1200 Watt, 1.5 horsepower UL-GCFI-protected, receptacles/circuits. Take caution to keep the blower and power cord dry at all times. All materials used to construct comply with the Lead-Free Toys Act. Model: Castle. Grade: Premium, Suitable for commercial use. Approximately 5 Children (800 lbs. total) Dimensions: 14′ tall, base is approximately 13′ x 13′ (16′-8″ long including slide exit). Shipping Weight: 147 lbs. (bouncer), 21 lbs. (blower)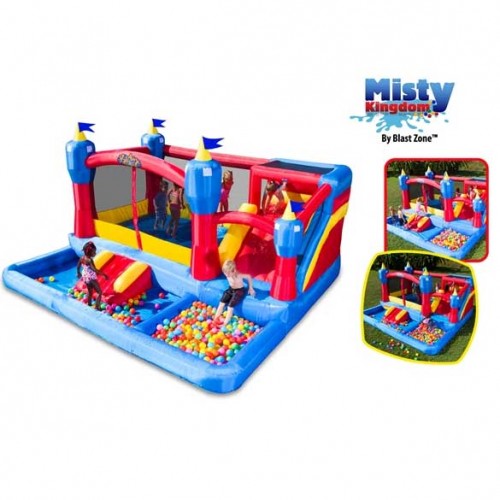 The Coolest bounce house in town! The Misty Kingdom isn't just a bounce house! A refugee from the hot sun, water park with slide and a ball pit all in one place! This inflatable bounce kingdom can entertain the kiddos wet or dry, hot or cold. Perfect for functions, birthdays etc. year round. In the hot months, simply hook up the hose to the sprayers for the best water park experience in the Misty water slide, splash pool and bounce house. While being equally as fun using the ball pit (balls sold separately), bounce area and slide in cooler months.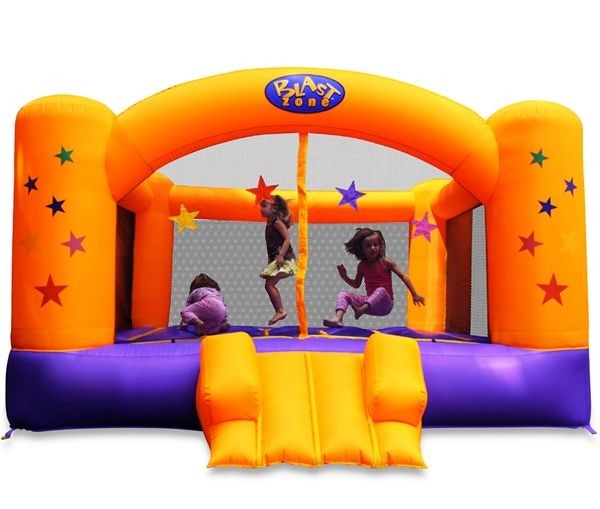 Perfect for your future astronaut. Then the Superstar Moonwalk Features the largest jump floor available, measuring a whopping 12'X12 (od). Perfect for a large event; birthday parties, church events, fundraisers etc. Measuring 12' Wide X 15' Deep X 7' High Patented. Allowing 5 kids at a time an out of this world experience. Parents love its safety features, affordability and durability in addition to being easily moved and stored. The safety netting covers all sides to keep children on the bounce floor. Its durability is supported by its strength and longevity design. Using top- quality materials such as interwoven oxford cloth and an inner air membrane eliminating leaking. Our competitors use an air blower that continuously pumps air into the bouncer, with that, the air is going to leak through the porous material.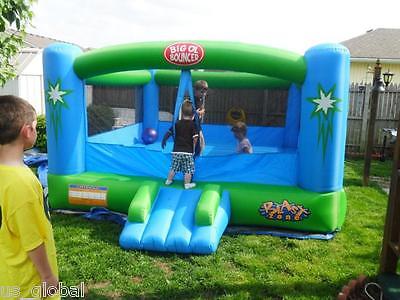 If you have a large event to plan, you can't go wrong with The Big Ol Bouncer. It can entertain 6 jumpers safely at once. Keeping the kids happy and active is a must might as well do it in style. Measuring 12'Wx15'Lx7'H, its approximately twice the bounce floor than the standard 8×8 bouncer for half the cost. The Big Ol Bouncer is made of only the best material per Blast Zone's strict standards. It uses reinforced polyester oxford and the bounce floor is made of the same material in Commercial-grade bouncer.  As a result,  a safer more durable product while also adding extra bounce. All Blast Zone products come with an Industry-Leading Warranty and support.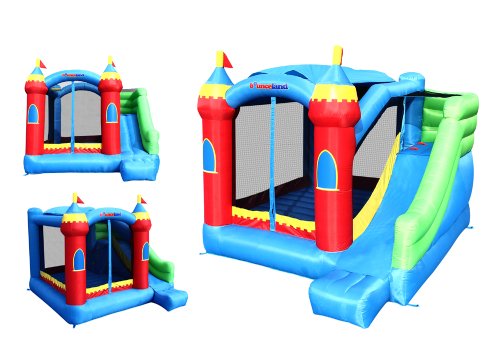 The Royal Castle experience includes: bounce, Climb, sliding and basketball! The bounce floor inside measures 8.5ftx7ft. It holds 5 jumpers at once safely. Multiple features make the Royal Castle our best seller! A climbing wall leads to a platform to a 10' tall slide! There is an optional sun roof, it is Velcro and can be removed. Its total size is 13w'x12L'x9h with an amazing set up time less than 1 min. The Royal Castle isn't just pretty, it's tough! Constructed of heavy-duty puncture-proof material to never let a party down! Rental Package includes: a UL Blower, carrying bag, Velcro roof top, stakes, instructions and repair kit. Weight limit recommendations: Max 100 lbs. per kid, 500 lbs. max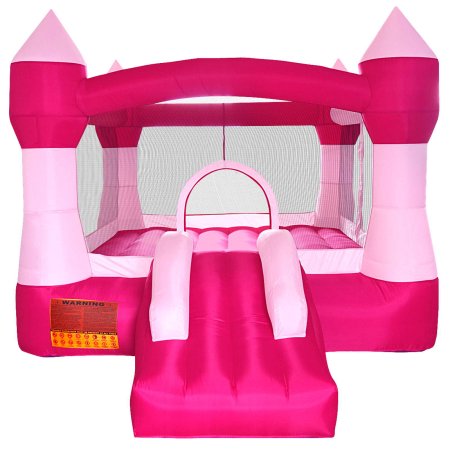 The Ideal Princess bounce castle measures 12'D9'W and 7'T. It can safely accommodate 3 children each weighing 100 lbs. or less. It's our Cloud 9 Princess bouncer Castle! A mouth full and a ton of fun! The best entertainment for birthdays, family reunions, etc. It'll entertain the kids while keeping them safe and easily supervised with large mesh windows. Bouncers this size aren't intended for commercial or rental use but they are just as strong and made of top quality materials. This house can be used indoors and out. This package includes inflatable bouncer, Ground stakes, Blower, Bouncer, storage bag, and power cords. It can't be used in windy or inclement weather, always use a GCFI-Protected Receptacles. Be cautious and keep the blower and power cords dry.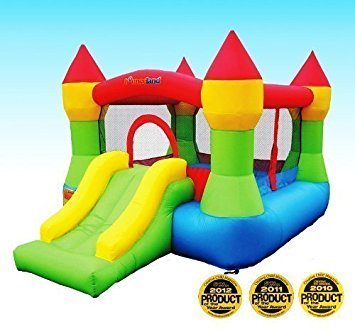 Bounce land's Castle is spacious yet compact, measuring 12'Wx9L'x7' High.  This award-winning bounce house has a 77 in X77in bounce floor with a 60in slide Easy to set up and compact it's great for indoor use! Great option when the weather doesn't corporate. That means bounce house fun all year long! In addition to the slide it also has a basketball hoop. Package includes: Bounce house, Basketball hoop, Stakes, Carrying bag, instructions and a repair kit Recommended for 3 years and up carries a maximum weight limit of 250lbs. Suggests 3 kids at a time with a max weight of 80lbs each.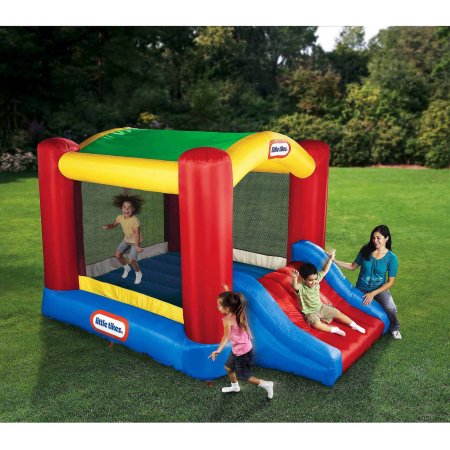 This house can turn any backyard BBQ into timeless bounce house fun. Kids can play together and get exercise while the family can supervise and relax. The mesh sides keep children from bouncing out and easily seen. One of its best features is the arching shade canopy, great for protecting little ones from harmful UV rays.  There are two entrances in the back, mesh pockets to hold shoes and a 7-foot-wide jumping floor. Once inflated, the blower must run continuously while children are inside. It must be firmly anchored in place when inflated.  Maximum of 3 children at a time, with a maximum combined weight of 250 lbs. As with all of our bounce houses safely comes first.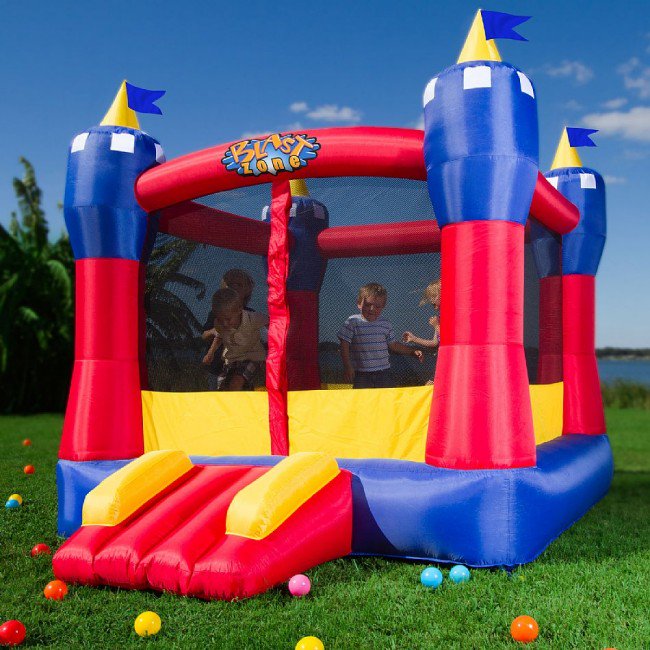 In comparison, The Magic Castle is a larger, improved version of The Classic Blast Zone. Similar to the classic, it's blown up in seconds. Safely allowing 3 kids or 300lbs to jump at a time. It inflates using a UL-Approved blower to provide continuous airflow. Designed to encourage imagination while keeping children safe. With 60'' walls, Mesh windows and a Slide for easy entrance/exit. No wonder it is one of our best sellers! The walls are tall enough to keep children in yet short enough to clear a standard ceiling.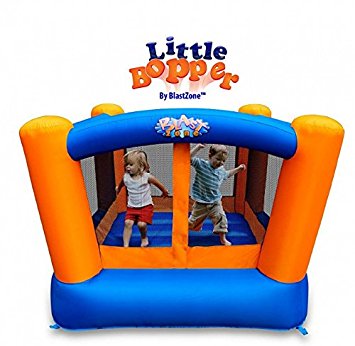 The Original Blast Zone Little Bopper Bouncer is the perfect example of learning while having fun.  While they play, they are also developing coordination and motor skills! Each side of the bounce house has mesh windows for safety and easy supervision. This design is ideal for 1-2 kids at a time, under the age of 6.  The Little Bopper may suit a younger crowd; but it still uses PVC technology also found in our commercial bouncers.  Containing X-Weave materials and a continuous airflow for a longer-lasting bouncer. It's one of our most compact and easy to use bouncers, inflating in under 1 min!
Bounce House Rentals
Rent a Bounce House today by visiting. Indoor or outdoor we can accommodate any event you may be planning. Birthdays, fundraisers, school functions etc. We provide rentals all over the United States. Don't live in a city where they can be rented? Do the next best thing, buy one! Something that can be used time and time again! Some going for as little as $200USD. Even commercial bounce houses aren't going to break the bank. The best commercial-grade bounce houses range $300-$2,500 per. We are always adding new content so please check with us about discounts, rental info and general bounce house knowledge. Bounce on!