Vuly Trampolines – Australia's # 1 Trampoline
This Australian born trampoline is now available worldwide! The Vuly Trampoline is a very high rated product. We've reviewed and researched to see just what makes them so special? We found A LOT!
Available in 3 common sizes:   8 ft (small), 10 ft (medium) and 12 ft (large).
The unique design is intended for smaller children's entertainment. The available sizes are noticeably smaller than the standard trampoline sizes. The Vuly is anything but standard. There also lies why they are so popular among parents. The size, safety nets and overall construction make them ideal for children 5-12 years of age. Allowing them to jump freely, with little risk of injury.
Most trampolines are available in larger sizes, such as 16 foot and rectangular trampolines. Larger trampolines are intended for higher jumps, stunts and tricks. The Vulys design is geared more toward younger children and for those who want to simply jump up and down. However, they've added games like basketball, twister, Mimic etc. Although it isn't meant for high-jumping and stunts. Older/Larger jumpers can safetly enjoys cutting flips and higher jumps. Vuly uses the highest quality materials and parts to create a strong, safe, durable product for your entire family.
The Vuly Large (10.5ft) thunder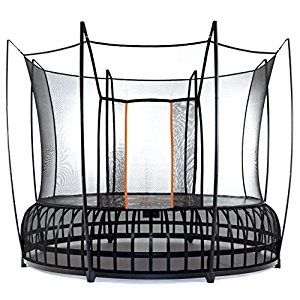 $1,696.96  

Introducing The Vuly Large (10.5ft) THUNDER  known as one of the world's strongest and safest trampolines. Delivering the best bounce above any trampoline in its class. Its gentle yet protective play mat keeps jumpers protected with a soft, long lasting safety net. The safety enclosure is made of superfine silk Terylene material. Amazingly the Thunder's frame is free of nuts and bolts. It only consists of 5 parts for a fast, easy assembly.
---
Vuly has gone above and beyond to make their trampoline about more than jumping up and down. Adding numerous features much as the HexVex Game Mat, Skate Dock and Tent. The Skate Dock and Tent are sold separately.
A Strong, Sturdy Metal Trampoline Frame
A great bounce starts with a great frame. For a sturdy foundation, each Vuly trampoline is constructed of a sturdy galvanized steel frame. Capable of withstanding years of rain, sun, and high winds. Using patented Square Join Technology to keep the legs at 90 degrees. Vuly knows what it takes to make a safe, durable jumping environment. The enclosure poles attach directly to the frame using pop-locks. Making it very easy to remove the poles if needed. It's also a great way to eliminate movement that can damage the welding. Therefore, a longer lasting product.
Vuly believes you shouldn't have to buy a new trampoline for each age group. The up-down tapered springs provide a great bounce for all ages. Smaller jumpers will use the top layer of springs while larger jumpers will use both sets. Similar to the Vuly frame its springs are made of galvanizes steel and Chromium conversion coating. This will not rust, corrode, or break. To show how confident they are in their product design. Vuly guarantees the springs for 5 years and the whole trampoline for 10!
---
Vuly 2 Trampoline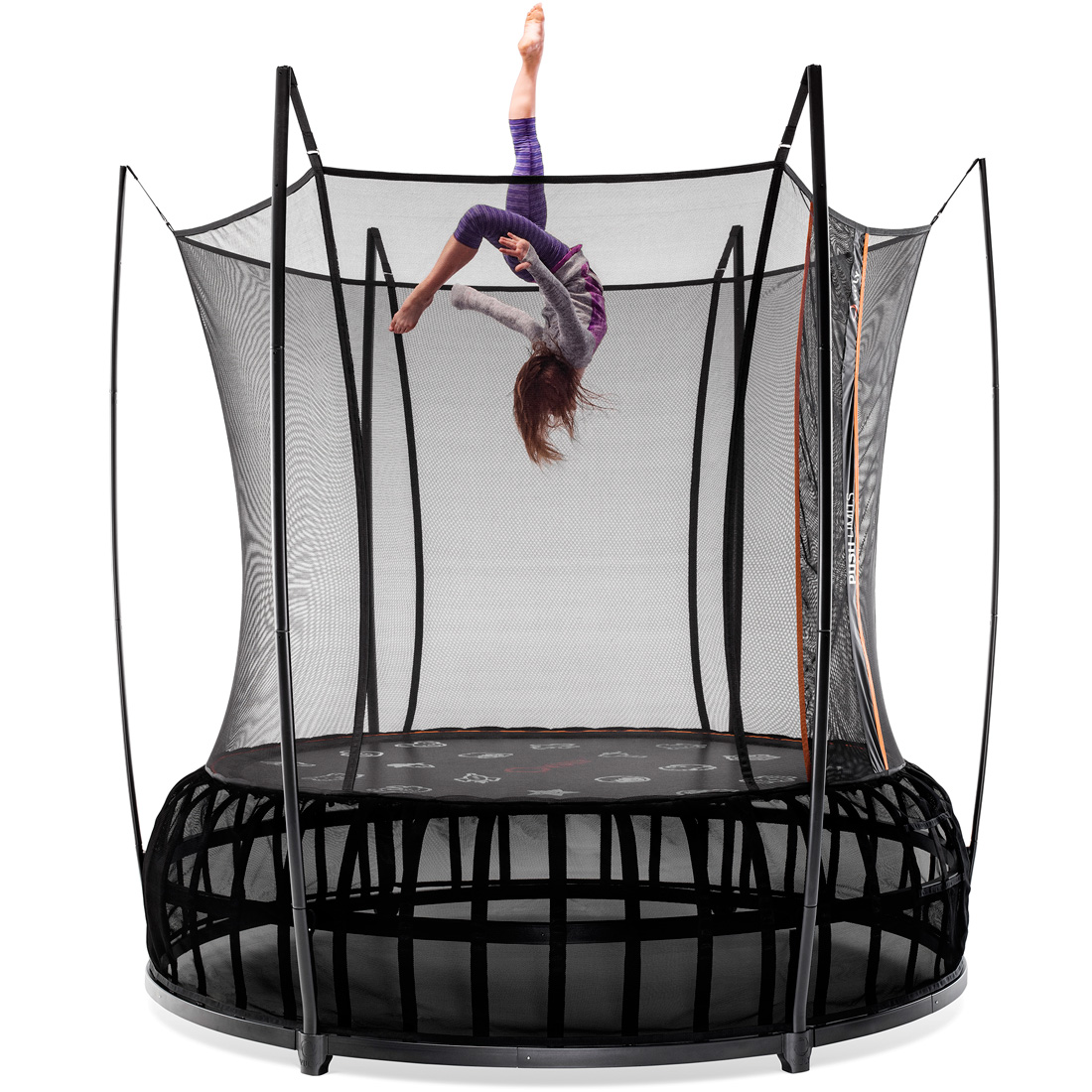 Available in 8ft, 10ft, 12ft, 14ft Click here –>   

  $474.99-$850.00
It's even been called "The classic trampoline reborn". A modern touch to a classic backyard fun. It's look alone gives it away as not your "average trampoline". Taking safety and performance to another level yet again with the Vuly2. Features include:
The safety net is tightly woven, avoiding grazing like the rougher, lesser quality nets will. It's gentle yet sturdy and reliable. Catching you as you fall to avoid contact with the frame and enclosure poles.
The unique frame design is more than cool looking. It contributes to the Vuly2's bounce quality. Using a two-ring clicking frame for double the durability of a traditional frame.
Ever looked at a trampoline and noticed the spring cover was filthy? Vuly has a reversible safety pad that look fresh each time you flip it. It's a water and UV resistant material that is sure to last.
With a Maximum weight capacity of 330lbs, kids of all ages can enjoy the Vuly2. Assembly is required. We are confident you and your family will not be disappointed.
---
Vuly Trampolines Are Safe
Its whole design is to lower the possibility of serious injury. The safety belt system rings work in harmony to share every impact of every bounce. Absorbing each bounce prevents the net from resisting and tearing. If you've ever been unfortunate enough to hit an enclosure pole you know it's not a pleasant experience.The heavy-duty Silk Terylene net stops this from happening. Thank you Vuly! This technology leaves little to no chance for you or your child to encounter the frame, springs or poles. As a result, keeping all fingers and toes from getting stuck or injured.
Keeping dainty fingers and toes in mind. Vuly uses a reversible thick foam padding to cover the springs. Each spring attaches to the net; looping through the mat forming a secure connection.
The Silk Terylene used for the enclosure net is also very gentle on your skin. Canceling all risk of friction grazes while offering great support. Needless to say, the holes in the net are too small to get caught on. It's one of the safest trampoline models for smaller children that can be enjoyed by older children too. The enclosure poles are covered in PVC sleeves as well as Vuly's own Black Foam that is made to last. They're as easy to take down as they are to put up. A great feature when there's a storm coming, or if you must move it.
---
Vuly Thunder Tent X-Large

$379.00   

 Don't be fooled by its complex design. It's a hassle free set up. You won't fumble with tiny parts and complex instructions. However, if you choose not to assemble it yourself. Vuly will provide an expert to do it for you, at a time that works for you. To ensure safety and quality your local expert will carefully inspect your trampoline after assembly. This is backed by Amazon's Happiness Guarantee!
---
Fun & Colorful Vuly Trampoline Pads
As if Vuly trampolines weren't already fantastic. Unique to Vuly products, the spring pad is UV resistant, water proof and last twice as long as other brands. It won't slip and slide or disintegrate over time either. The direct-connect PVC loops to the trampoline frame keep the pads secure. Available in Vuly's own Funky Green or their timeless blue, proven more fade-resistant than orange, pink, red and yellow.
---
Vuly Thunder Trampoline, X-Large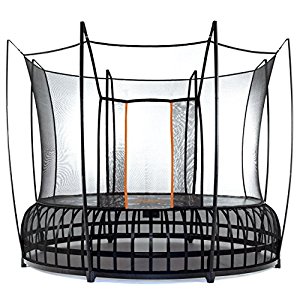 $1,993.99    

 The Vuly XL (12.5ft) Thunder has a maximum weight capacity of 330 lb. Some assembly required, an instruction manual is included. If you choose not to do it yourself, Vuly will provide a local expert. This is backed by Amazon's Happiness Guarantee.
The XL Thunder is one the world's strongest, safest Trampolines. Providing the best bounce of any recreational trampoline around. Upholding the high standard of all Vuly products
---
Fun & Games with Vuly Trampolines
Whether you're flying solo or have team players the best part of a Vuly Trampoline is the game mat.  The Vuly HexVex™ Game Mat is one of a kind. You can make up your own games, learn new skate moves on the Vuly Deck or camp out in the tent. It's endless fun anytime of the year.
Games
TRAMPOLINE TWISTER! Number of players: 3+. Players 1 and 2 stand in the center of the mat. Player 3 is the 'referee'. The referee closes their eyes and chooses an icon and body part for Players 1 and 2 to touch together, for example "Left Leg, Alien." The player able to stay up for the longest without falling over wins.
MIMIC ME: Players start on opposite edges of the trampoline and face each other. Player 1 calls out the name of an icon and jumps to it. Player 2 mimics Player 1 by jumping to the same icon. Repeat for all nine icons. If Player 2 correctly mimics all the icons selected by Player 1, they win the game.
STORY HOP: One player starts in the middle of the jumping mat and all others sit on the edge. The player jumps on any icon, and tells one element of a story related to that icon. Repeat with all nine icons. To finish a turn, the player must use each icon to tell a complete story. The player whose story achieves the most laughs wins.
BOUNCE POINTS: One player starts in the middle of the mat and the other player/referee calls out an icon for them to jump to. Hitting the closest icon will receive five points, and hitting the furthest icon receives 10 points. When a  player misses or falls, five points are deducted. Tally the points after 10 jumps. The player with the most points wins.
Unfortunately, the HexVex Game Mat icons will not last forever. Dependent upon conditions such as usage levels and the weather, the unique icons will wear over time. Some wear off sooner than others. The pressure applied to the mat causes the paint to crack and fade over time.
Vuly Trampolines On Sale
As with all great products and brands, a great deal of thought and effort was put into making Vuly trampolines. The colors, games and safety features are hard to compete with. They're available in several models, sizes and colors. Click here to see all models available through Amazon.