Jumping Stilts or Kangaroo shoes are a mixture of Pogo sticks, stilts and roller blades! Providing the perfect combination for higher jumps and faster running speeds. They do require less balance than a Pogo stick at the same time firmly fasten to your feet. Keep in mind it still takes practice, a bit of skill and balance. Once you've mastered the basics of Jumping Stilts there are endless possibilities for stunts and wild tricks. Check out the video below for examples.
First things first, using the 2 comparison charts below, pick which weight requirement the jumper will need. If the person operating the stilts isn't the appropriate weight it will result in a less satisfying product.
Instead of shopping by shoe size you still want to purchase your child's Stilts based on their weight. As per design, they fit virtually any tiny foot. If the proper weight range stilts aren't worn it could cause pain or injury to the child. In turn resulting in a less satisfying experience.
To ensure you purchase the perfect stilts for your child. We've provided easy to use comparison charts. Once you've got that covered select the pair you most desire and follow instructions for payment.
Pogo Stilts For Adults
The three most popular brands available are Kangaroo Shoes, Airtrekker Jumping Stilts. All around the same price bracket of $290-390.
The highest rating brand of its class and most popular among riders is Kangaroo Shoes. For the best experience and sheer quality of stilts, it's worth spending the extra hundred dollars for Kangaroo's Jumping Stilts. They're are made of the highest quality materials; Aluminum framing and fiberglass leaf springs that are built to last. Automatically comes with a 12-month general warranty! (six months on Spring and Rod-D parts) We want you to have the time of your life but we also want you to be safe. We recommend wearing a helmet and proper safety equipment.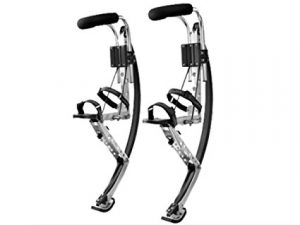 $285
Ages 16+
110-150lbs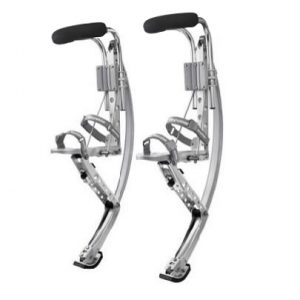 $285
Ages 17+
200-242lbs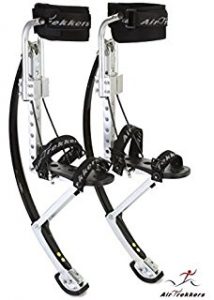 $311.55
Ages 17+
120-160lbs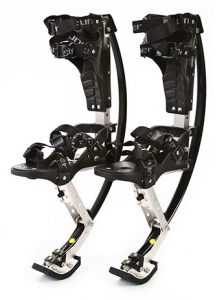 $184.99
95-120lbs
Ages 8-12


AIRTREKKER JUMPING STILTS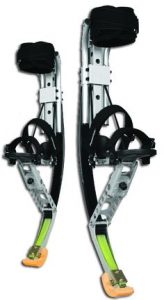 $340
Ages 14-17
131-152lbs


Skyrunner is defined mainly by a flat spring controlled upon deformation, so that the result is a straight movement relative to the ground. With the riser's functional principle, depressive spring characteristic and backward movement of the force point during deformation are achieved. This supports the natural force point movement in the heels direction at higher loads and allows the runner to transpose his optimal jumping energy. Hence, you can really fly!
Jumping Stilts are known by many different names, some commonly used; bounce shoes, kangaroo shoes, spring stilts, jumping boots, Pogo shoes, velocity stilts, power risers, the list goes on.
Jumping Stilts for Kids / Children
JUMP-BIRD JUMPING STILTS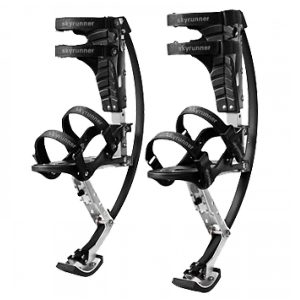 $168
Ages 6-10
66-110 lbs


Full Aluminum Frame 6063 Style, Thickness 2.8mm,Nylon Belt,High Quality Fibreglass Spring,Wear Proof & Skid Proof Rubber Foot

Spring: special reinforced glass fiber;Body: aluminum alloy;Step: rubber;Connection: bolt or nut
JUMP-BIRD JUMPING STILTS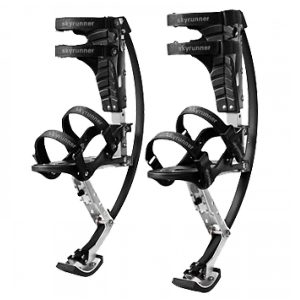 $168
Ages 9-14
88-132lbs


SKYRUNNER JUMPING STILTS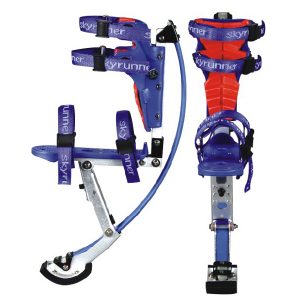 $168
Ages 6-10
66-110lbs


YOUTH KANGAROO SHOES JUMPING STILTS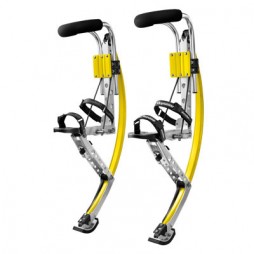 $169
Ages 7-10
66-100lbs


YOUTH KANGAROO SHOES JUMPING STILTS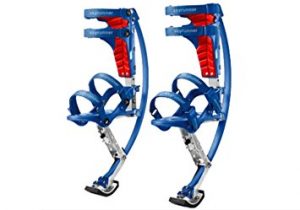 $169
Ages9-10
66-110lbs


Kids/Child Youth Kangaroo Shoes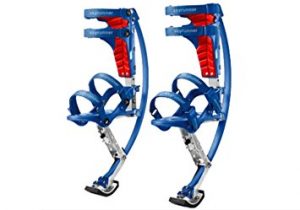 $169.00
88-132lbs


The top four brands to produce stilts for children and teenagers are; Kangaroo Shoes, Aitrekker, Skyrunner and Jump-Bird.